AMERICAN CANCER SOCIETY
Kids are invincible. They roll their eyes when you talk about the deadly effects of smoking. But I found that bad breath and stained teeth made them recoil.
KIMBERLY CLARK/VIVA
The client wanted a couple of straightforward coupon ads. But their tag line was too fun to let it go at that. It just goes to show that you can push an idea and still make the client happy.
DEWAR'S
I was fortunate to be part of the team that created this Kelly Award winning campaign. Amazing experience.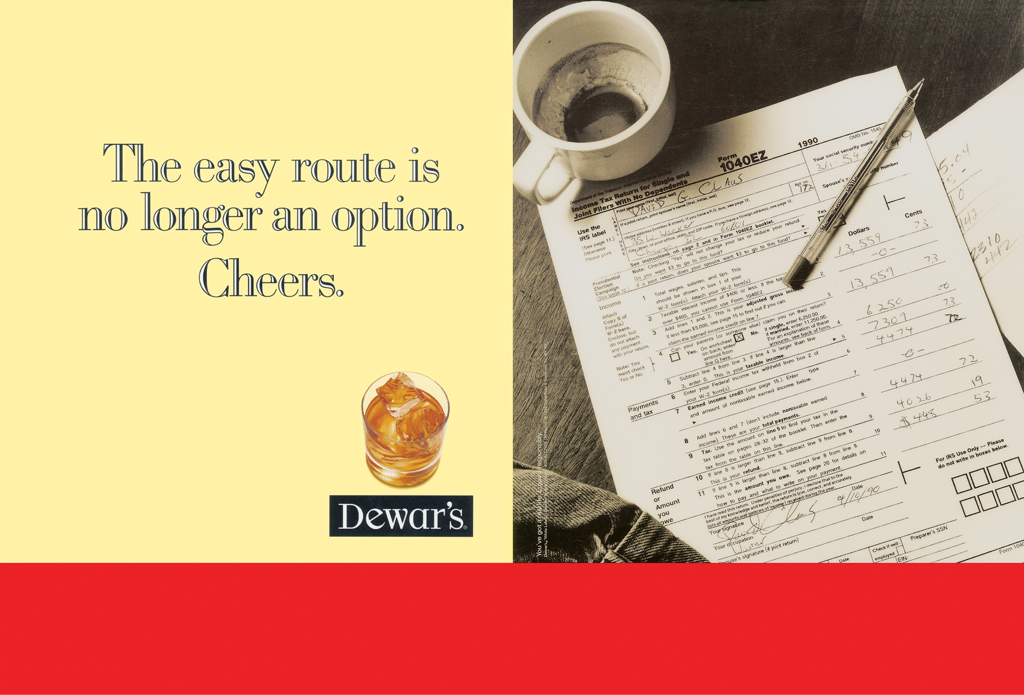 JOHNNIE WALKER
I was assigned to convince non-scotch drinkers to not only try it, but to pay an ultra-premium for it. Psychology 101: Boosting egos boosted sales.
TRANSDERM-SCOP
Conservative client. Uncomfortable product. Funny ad. What more can I say?
LAND'S END
To win this business, we developed a way to produce twenty print ads AND eight television commercials with just over $100K. It won Best of Adweek.
Broadcast
REEBOK
Tons of ads. 80-hour weeks. Obstinate athletes. Lots of fun. Best of Adweek stated "They've outdone Nike".
Broadcast
ANHEUSER–BUSCH
August Busch III said this was the "Best print ad I've seen in years for any of my products." He is not an easy man to please.
Broadcast
SEARS
BACK TO SCHOOL
We we're given less than 48 hours to create a TV spot from scratch with a very low budget for national broadcast. Using simple animation and an infusion of weird, my team created a breakthrough back-to-school retail ad. And those are few and far between.
FASHION
To get Sears back in the fashion conversation, I created this elegant spot.